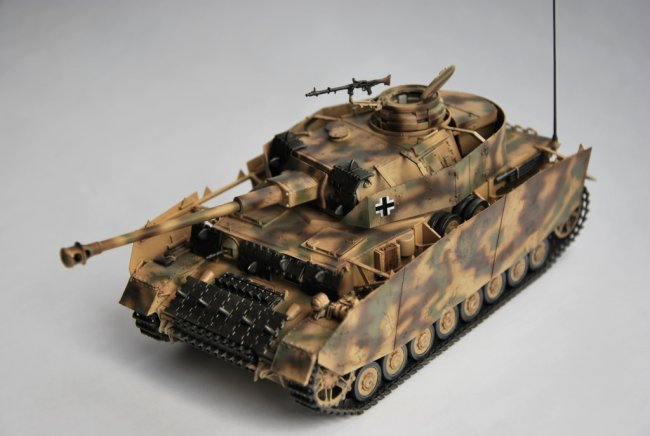 This is my first armor model. I was impressed with the quality of this kit. The final model contains about 800 pieces, including over 200 individual track links. Dragon's "Magic Tracks" certainly put a spell on me, as I more than enjoyed assembling and painting them. The kit is built OOB, and to me it looks very nice.
The chassis was built first, painted with ALCLAD II Steel then a sand layer was added. The wheels and tracks were painted separately, and after being added, a brown wash was added, followed by a silver dry-brush step over the tracks.
The upper part was as well first painted with Steel, then Beige, Brown and Green. Weathering was accomplished by dry-brushing and scratching the top coat until the bottom steel layer was exposed (a new technique for me).
Kit decals were used, and they performed flawlessly (only 3 German Crosses). Lastly, a final light brown wash was applied to the whole model.
This model took a month to complete, and it was a gift for my dear friend's birthday. I hope you enjoy.
Tudor Gheorghiu