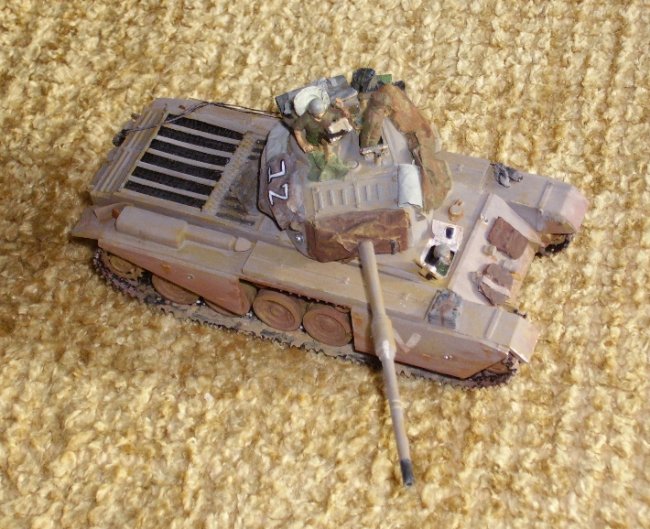 I had always wanted to make a model of an Israeli Centurion, but when I got around to it, the only kit available, in any scale, was the ancient Airfix version in 72nd scale. With the help of a lot of plasticard, rod, wire, and items from the spares box, I eventually got there. Modifications are too numerous to mention, but it is really only the basic hull, basic turret, and running gear that is used, all else is is added in some way.
The Israeli name for the Centurion is `Sho`t` (`whip` in English) and the model is of the Mark V petrol-engined version that was still in service at the outbreak of The Yom Kippur War of 1973. The model depicts a Sho`t of the 77th `OZ` (Courage) Battalion of the 7th Armored Brigade which held the Golan Heights, along with the 188th Barak Brigade, long enough for the reserves to arrive. In this epic defensive battle, few Sho`t escaped damage of some sort and our example here is no exception.
The `V` chevron on the `bazooka plates` is a tactical sign and in this configuration denotes that the vehicle is from the 1st Company. When the chevron points forward it is 2nd Company, upwards is 3rd Company, and to the rear is the 4th Company. The two barrel stripes are not kill markings as often reported, but are also tactical signs, in this case they show a vehicle from the 2nd Battalion of the Brigade. The temporary canvas sign shows this is the second tank from Platoon `Beth`, (Second Platoon). The small white stripe running down the barrel is to help aim the gun in low-light conditions as the Israelis were not well-equipped with night-vision gear in 1973. To this end, the commander has rigged a non-issue searchlight to his turret position.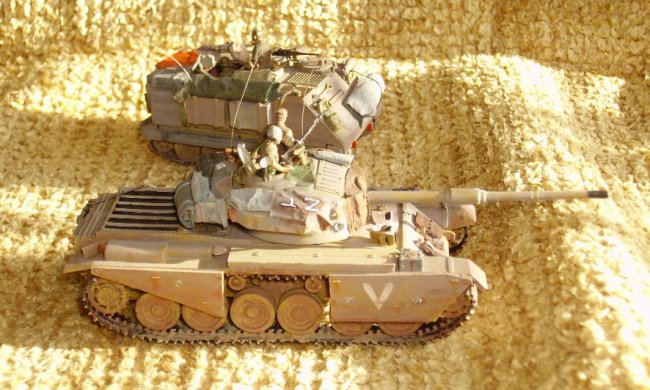 Cheers all,
Ian