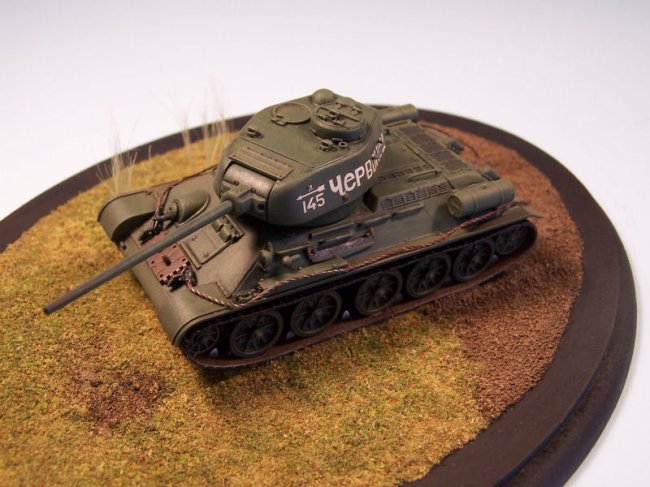 Preamble
My new found interest in 1:72 "braille scale" armour simply had to include a T34 series medium tank. So when I saw the bright yellow and green Dragon boxing of the T-34/85

I have only recently rediscovered the fun that can be had constructing small scale 1:72/1:76 armour kits and was very pleasantly surprised in the huge leap in quality and detail that abound in newer releases from Dragon, Revell and Trumpeter.

The Kit
Comes in a nicely packaged box containing bagged sprues in light grey plastic which are bagged in plastic to prevent parts loss. Separately bagged from the main kit parts are a small PE fret, a full set of beautifully moulded road wheels, decals, a length of braided wire for the tow cables and a pair of Dragon's new DS tracks.

The mandatory instructions are clear and concise which apparently is an improvement over Dragon's original photographic style of previous releases.

All parts are crisply moulded with very little flash, injector marks and mould lines. Dragon are using slide mould technology more and more which results in very well moulded hollow parts such as the cannon barrel.
Construction
I normally start with the turret on my armour builds and this project was no exception. The turret assembled easily and only required a small amount of filler to blend the major parts together. This was followed by a plethora of small and I mean small parts. Once done, however the resulting assembly looked excellent.

Upper chassis was next and also offered a large array of tiny parts, some less than 2mm square. I was lucky that nothing went into orbit or into the maw of the carpet monster with a careless application of tweezer skills! However, everything went together in the end, over a pleasant but busy evening's assembly. Dragon offers a PE alternative to the engine outlet grill, however I chose to use the plastic parts instead, not wanting to spend too much time on the engine cover assembly. Perhaps my next Dragon T-34 build?

The remainder of assembly proceeded quickly, with only faint mould lines being needed to be removed from some parts. This kit is a joy to build with no particular vices of any sort, though care will be needed to install the plethora of small parts to both turret and chassis.

Painting and Decaling
Now that construction was finished I could settle down to painting. I followed my normal painting procedure for Soviet armour and sprayed the turret, track assembly and the upper and lower chassis assemblies Tamiya spray can flat black. The synthetic lacquer lays down nice and smooth without obscuring surface detail and provides an excellent base for subsequent paint layers.

Using Ceramcoat dark forest green, I glazed over the black with multiple thin coats until good colour density was achieved and then dry brushed Ceramcoat medium forest green over each sub assembly. This popped out all the surface detail and lightened the darker underlying dark foliage green finish. Once the green was to my satisfaction a filter of Vallejo flat earth was applied over the entire model followed by a thin pin wash of Vallejo burnt umber. Finally a very light dry brushing of Citadel Codex grey was applied to all edges, high points and bolts.
The tracks were then dry brushed with Modelmaster Rust, washed with flat black and then flat earth. Track contact points and teeth were then treated with a dry brush of Citadel boltgun metal to impart a worn metal look. Humbrol metalcote polished steel took care of the road wheel wear surfaces and sprocket gear.

The Dragon decals adhered beautifully and snuggled down over the turret with only a couple of light applications of solution though I had to adjust each decal along the turret side to go around the grab rails of which any resulting gaps were touched up with flat while Vallejo paint. Once dry I painted a couple of thinned coats of Pollyscale flat followed by a wash of flat earth to tone down the white of the decals.

All the subassemblies were then brought together and set aside to cure.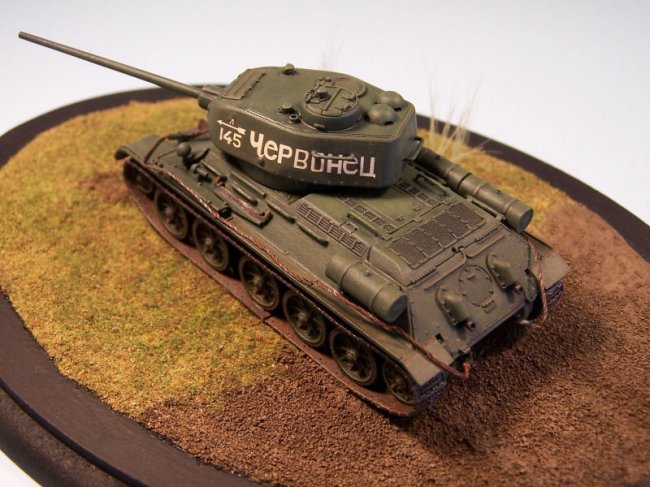 The Base
I prefer to see an armour model set on a small base, so I selected a small oval MDF base with a nice routed edge. I buy these from a large hardware chain for under $2 and they really are perfect for 1:72 armour models. Masking a border and applying some wall plaster (mixed to a thin slurry took less than half an hour. The base too, was set aside to cure in preparation for the next stage. This entailed adding "texture" to the base, especially where the dirt track was to be located.

I dry brushed the dirt track with various shades of Vallejo earth tone acrylics blending the bare dirt areas into where the grassed area was to be added. I then used various pre mixed shades of Woodland Scenic flocks and some tall grass. Once the base was completed, the tank was added and more flock, crushed rock and earth tone pastels used to blend the tank and base together.

The next stage was to avoid creating the illusion that the tank was dropped via a helicopter onto the base. As I used a quick drying plaster adding tread marks and wheel ruts proved frustrating. Either the plaster is too wet or too dry. I am switching to Celluclay in the hope that a better result can be achieved. On this base however I tried another solution. I added 4 thin beads of white glue running behind the tanks tracks which once basing material was added, provided the illusion of raised earth pushed out by the passage of the T-34/85. These were then treated to the same dry brushing stages as the gravel area with the area inside the track marks washed with dark earth. This technique looks most convincing and I am quite pleased with the results as it looks like the T-34/85 is driving onto the grassed area.

Overall
The 1:72 scale armour modeller now has a growing selection of excellent kits to choose from which offer the same detail and finesse of the larger kits. A recommended kit to build.
Good fun and it looks great!

References
Michael Johnson