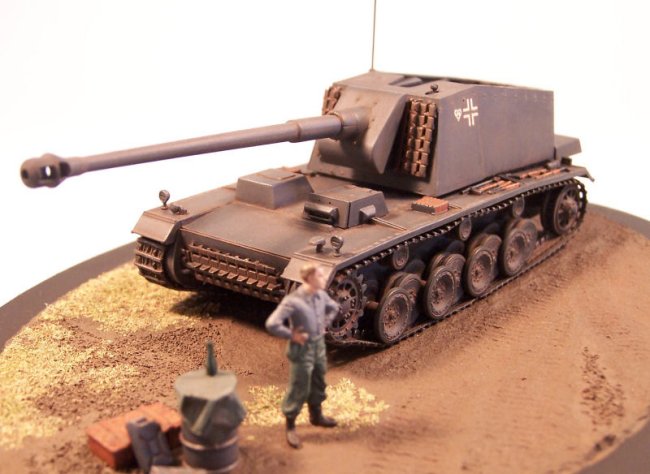 Factual Stuff
Well before World War 2, the German ordinance bureau decided to develop heavy self propelled guns (100 – 128mm calibre) in order to destroy enemy fortifications. As a war with France was being planned such SP guns would be needed to bust the bunkers of the Maginot Line. By the end of 1940, the s.10 Kanone was fitted to a modified PzIV chassis.

However the more powerful and heavier 12.8cm Kanone 40 (derived from the flak 40 AA gun) required a bigger chassis of which the prototype V3001 was available. These were essentially scaled up PzIV chassis but provided the ideal mount for these big guns. Ammunition was in two parts consisting of the cartridge and the shell itself with the vehicle able to carry 18 rounds of ready use ammunition stored separately within the fighting compartment.

Armour protection compared to later SP guns was rather good with 50mm frontal armour and 20mm side armour

By 1941 two prototypes were completed and assigned the designation of Pz.Sfl V. It was at this time Hitler had decided that bigger and heavier allied tanks were inevitable and that the new SP guns must be able to have tank destroyer capability as well as the artillery role they were originally designed for. Mass production of the Pz.Sfl V was to commence in 1942.

The new SP guns were assigned to Pz.Jg.Abt. 521, a special purpose battalion. (521 were mainly outfitted with PanzerJaeger PzJg 1), one heavy company received the two s.10 cm Kanone auf Sfl IV (known as Dicker Max), and the other heavy company the two Pz.Sfl V 12.8 cm SP guns. With the start of Operation Barbarossa the unit was sent to the central section of the eastern front.

Because of its huge gun and success in combat against Russian armour, German crews nicknamed the Pz.Sfl V "Sturer Emil" (Stubborn Emil)

Unlike its smaller brother which rarely saw action (and without great success) the Sturer Emil saw extensive action during offensive operations. While Dicker Max, because of the 10 cm guns slow muzzle velocity, had to be used in an artillery role, the 12.8 cm K 40 of the Sturer Emil was a high performance gun with a flat trajectory. Its armour penetration results were incredible. Eyewitnesses reported that T-34 tanks were simply perforated, the shell passing right through the tank on the opposite side and causing more damage there. Accuracy was good, but did not match the results of the famous 8.8 cm Flak 36. The gun was able to engage targets up to 3500m. Russia's vast steppes were a formidable battleground for the Emil.

Unfortunately the SP gun suffered from poor mobility. Emil reached a maximum speed of 15 km/h over rough terrain and the drivers were told to drive extremely carefully in order not to cause damage to the gun mount. For all its size the fighting compartment of the new SP gun was cramped, with the loader having to load large and heavy rounds over the box like structure that covered the engine bay. This engine cover got very hot and burns were quite common.

As a result of these shortcomings, like the Dicker Max SP gun, the ambitious production plans for the Sturer Emil were dropped in favour of more economic solutions.

Of the two prototypes, one was destroyed in combat and one captured by the Russians during the Battle of Stalingrad in January 1943. It is now preserved at the military museum of Kubinka.

Preamble
Some months ago one of our club armour modellers brought in his recently completed 1:35 Trumpeter Sturer Emil in for display and discussion. I was immediately interested in this rare PanzerJaeger and noting my interest my wife sourced out the Trumpeter 1:72 kit for part of my birthday present.
The Kit
Comes in top opening box with all light grey sprue trees bagged sprues bagged in plastic to prevent parts loss. All parts are crisply moulded with very little flash, injector marks and mould lines. The tracks are of the rubber band type, but are not of the same material as the Dragon DS track and will need to be heat welded.

The mandatory instructions are clear and concise with clear parts and assembly breakdown. The rear page offers up either of the serving prototypes to model, plus overall colour instructions. Both are overall panzer grey so there is not much variation in schemes!

Construction
I started with construction of the huge 128mm cannon breech, which once assembled and cleaned up looked excellent. All parts went together well, with only a small amount of filler required to remove joins.

Once the cannon breech assembly was completed, the next stage was to assemble the lower chassis and paint the fighting compartment's interior fittings. As I wanted the track to sag between each return roller, I inserted trimmed pins cut from piano wire midway between each return roller for the track to run under, thus creating sag. The pins were painted black in order to make them "disappear" against the tracks.

The remainder of assembly proceeded quickly, with only faint mould lines being needed to be removed from some parts. Construction was slower than a normal tank build, as most of the detail needed to be painted before it went into the open topped fighting compartment.

In the end, I had 4 subassemblies ready to be painted.

Painting and Decaling
Now that construction was finished I could settle down to painting. Panzer grey finished armour is notoriously difficult to do well, especially in small scale. I started with a black Tamiya lacquer spray can undercoat and once dry added Vallejo German grey. I then applied a series of progressively lighter glazes and dry brushing towards the centre of horizontal and vertical areas until a subtle fading affect was achieved. This is certainly visible when a naked eye looks at it, but the camera cannot pick up the subtlety, so next time I will make the effect more noticeable, with or without an airbrush.

I then worked in some selective burnt umber oil pin washes to add depth to the model surface, once this had dried overnight; I then weathered the exterior of the fighting compartment plus the lower and upper chassis halves with a chalk wash. This imparted a dusty used look perfect for high summer.

Finally a very light dry brushing of Citadel Codex grey followed by Humbrol polished steel was applied to all edges, high points and bolts.

The floor of the fighting compartment was painted panzer grey along with the compartment insides. However research indicated that in actuality the floor consisted of wooden floorboards not steel slats. After some thought, I washed the floor with several coats of Vallejo burnt umber followed by some selective dry brushing of Citadel codex grey. This was further washed in earth tone chalk washes to impart a scruffy, dusty wooden floor. Finally, polished steel was used to wear the engine cover and steel deck frames.

The tracks were then sprayed with flat black lacquer, washed with burnt umber and flat earth and the contact points were dry brushed with Humbrol polished steel imparting a worn metal look. Humbrol metalcote polished steel also took care of sprocket gear wear surfaces as well.

Once the paint and washes had dried, I then used the ancient and venerable method of using a hot blade to join each track end. This proved to be a wasted exercise as the tracks proved to be too long, even with the sag between the return rollers. Resorting to ancient and venerable method number two, I cut the coupled ends off and sewed the track ends together with black thread. This resulted in a much better fit that was not too tight or loose, with the added bonus of a near invisible join that could be hidden neatly under a road wheel.

Pioneer tools and the jack blocks were next to be painted. I used Vallejo buff as a base on the wooden handles and jack blocks and black for the metal components of the tools. Once the buff was dry I carefully applied neat burnt sienna using a stiff pointed brush and by going over the handles a number of times exposed streaks of the underlying buff colour creating a realistic looking wood grain finish. The jacks were done in the same way. I left alone for a day then applied some more to "deepen" the wood finish and once completely dry, a well thinned coat of Aeromaster flat clear was applied to seal the oils and remove the slight sheen.

Like the PzIV, the Sturer Emil has a prominent rear mounted drum type exhaust which really needed to be painted carefully. The whole assembly was based in flat black and then dry brushed with Modelmaster rust. A further wash of a black acrylic was applied and then a selective and patchy orange brown and orange chalk wash provided the rusty and patchy typical muffler look. Edges were then dry brushed in codex grey. Mufflers are typically made of thin sheet metal and heat up as exhaust gasses pass through. The constant heating and cooling of the metal generates moisture which in turn rusts the sheet metal quite quickly and this results in patches of old and new rust.

All the subassemblies were then brought together and set aside to cure. This was almost a click fit exercise. The fighting compartment to upper chassis assembly actually required no adhesive at all, which is a testament to how nicely this kit goes together.

There are only six decals to apply which adhered beautifully with no silvering. Once dry I painted a couple of thinned coats of Pollyscale flat followed by an earth tone chalk wash to tone down the white of the decals.

I then went back over the assembled model it with more chalk and pin washes in an attempt to bring all the components together uniformly. Finally, some more selective dry brushing of polished steel imparted even more wear to various areas such as the top edges of the fighting compartment, driver's compartment and fender edges.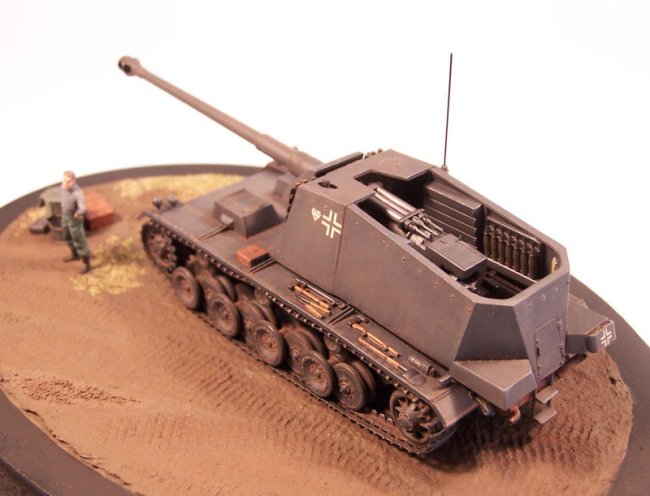 The Base
I prefer to see an armour model set on a small base, so I selected a small oval MDF base with a nice routed edge. I buy these from a large hardware chain for under $2 and they really are perfect for 1:72 armour models. My Sturer was to sit on the side of a hard packed dirt road cutting through the Russian steppes. While the other members of his fellow crew attend to the necessities of life during a hot day in late August 1942, the driver shares a laugh with passing Tiger I and PzIV crews.

"Nennst Du das eine große Kanone?" (Call that a big gun?)

With this vignette idea firmly in place I sourced an Academy fuel drum, ammo crate, fuel cans and a resin wine bottle. A rummage through my small stash of Preiser figures turned up an appropriate figure. A pleasant evening or two was to be had, getting all the pieces painted.

Masking a border and applying some Celluclay (mixed with acrylic paint and white glue) took less than half an hour. I then used a surplus Revell Tiger track segment to create tracks along the road edge. The Emil was then placed inside some Gladwrap and pressed into the base to provide correct sit.

The base as then set aside for a few days to cure, was set aside to cure in preparation for the next stage. This entailed adding "texture" to the base, especially where the dirt track was to be located.

I dry brushed the dirt track and roadside area with various shades of Vallejo earth tone acrylics blending the bare dirt areas into where the patchy grassed areas that was to be added. I then used various pre mixed shades of Woodland Scenic flocks for the grass. Once the base was completed, the tank was added and more flock, crushed rock and earth tone pastels used to blend the tank and base together.

I then added the painted fuel drum, ammo case, figure and fuel containers to the base, blending them in with diluted white glue mixed into the base colour.

Finally the Sturer Emil was added, sitting into the depressions created when the Celluclay was still soft.

Overall
Good fun and it looks great though the tracks could be better. Recommended.

References
Michael Johnson