PanzerPorschenKampfenFarvenWagen Typ 928 Auf G

Developed as a rapid response ARC Moderation team Urban Assault Vehicle, the PzPKfRW 928 has excellent cornering characteristics and fast acceleration, combined with superb cross-country ability. The remotely operated turret carries the hard punch of a 37mm gun firing Fin Stabilised Discarding Sabot Ban Hammer "Depleted Post" rounds, some of the densest material known. The auto loader allows for a rapid rate of fire, and the remote targeting uses both visual and electronic targeting. Armour is a bio-organic/polycarbonate composite material, both light and effective. Fine leather seats and interior, combined with the Weissach suspension give a comfortable ride, and the steering is light and responsive. Sliding in through the windows isn't the most elegant way to enter a vehicle, but if it was good enough for the Duke Brothers, then it's good enough for ARC moderators. So far, only one has been produced, and is being tested at the top secret ARC Test Track, located on an island in the Pacific Ocean.

Built from a 1/24 AMT Porsche 928 kit, and a Czech 38T suspension/track assembly from a donated kit. The turret is also from the spares bin, likely off a Panzer II, and the gun is a 1/48 75mm from a Tamiya 1/48 Panther. BTW, the AMT Porsche kit is an absolute pig to work on, and I felt absolutely no guilt at all modifying it. The skirts were scratchbuilt, as was the trailer hitch.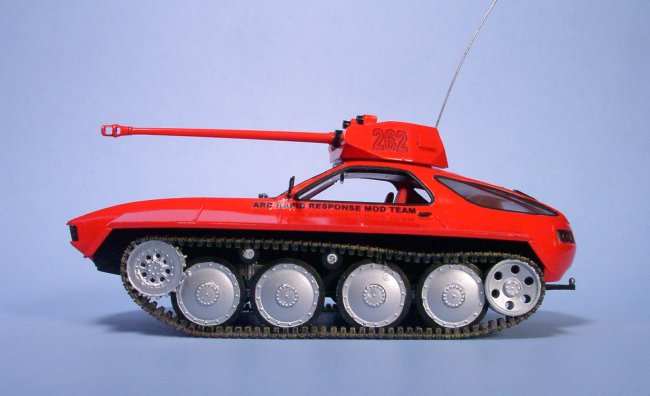 The decals, license plate, and warning placard were printed upon my trusty inkjet printer, and the vehicle was painted with Tamiya paints.
Alvis 3.1