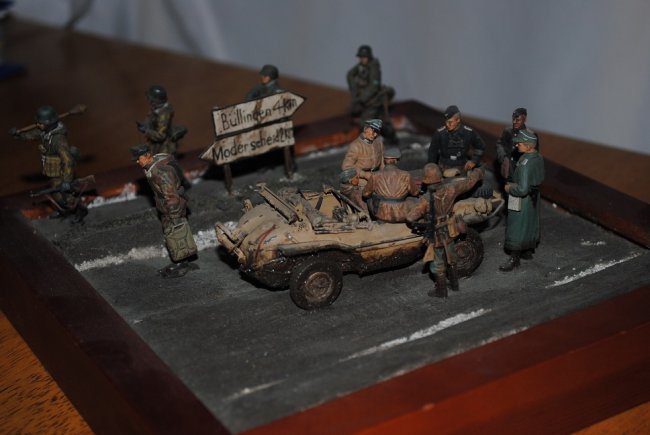 This is the Tamiya kit of the Schimmwaggen with the Eduard etch set added. I added Tamiya's Reconnaisence Figure set which provides the seated driver and officer and the standing tank commander and Grenadier. The equipment in the back came from the spares box. The other figures are from various Dragon sets.

The Setting is in the Ardennes, 1944/45. I wanted to portray a wet, muddy scene, with slushy snow in ruts at the road side. The base is made out of corrugated cardboard. I painted it various shade of acrylic brown and mixed Klear Floor Polish in to give it a wet, muddy look. The snow is made from ground up chalk. The whole look I was after was that of a cold, wet, miserable day. Bad enough to be in normally let alone having to fight in. There are three groups. The officers and NCOs clustered around the vehicle discussing the situation. (Bad!) The Grenadiers trudging through the mud. (Worse!)

And the lone tank man with a jerry can, on the look for fuel. (Hopeless!)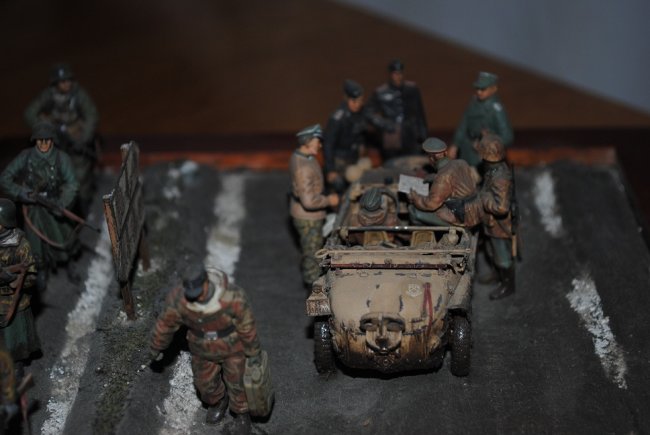 The vehicles and figures are painted with Humbrol Enamels. The lower half of the Schimmwaggen was given a muddy appearance by painting it with a mix of thinned model filler that had paint brush bristles mixed in with it. This was was slopped on all over the underside and up the sides. It was then painted with the same muddy colour as the base board. Once in place the Schimmwaggen was blended into the base with the same mix of paint used on the base. A cote of thinned Humbrol gloss was applied to give the vehicle a wet look.
Angelo M Picardo