This is another old Trumpeter kit but I see it's still around and, at least here in Trumpeter's home country of China, it's very cheap: currently retailing at one-third the price of newer kits. Part of a small group of contemporary JASDF vehicles from this manufacturer, I believe it's reasonably accurate, builds pretty easily and includes all four figures you see with my model: good value.
I built this straight OOB adding only stretched sprue aerials. Painting was by brush - but ensuring a convincingly low contrast between the two camouflage colors. Wash was some brown sludge or other (probably water colors and washing up liquid based) followed by light gray dry brushing.
The supplied figures are quite nice. The character on the left side of the turret, I should explain, seems to be wearing an all-enclosing kind of hood covering his whole head (making him look like an emaciated elephant man). The two infantrymen suffer from Trumpeter's typical sculpting mistake of having too small feet - but as these depict orientals anyway I didn't bother correcting this.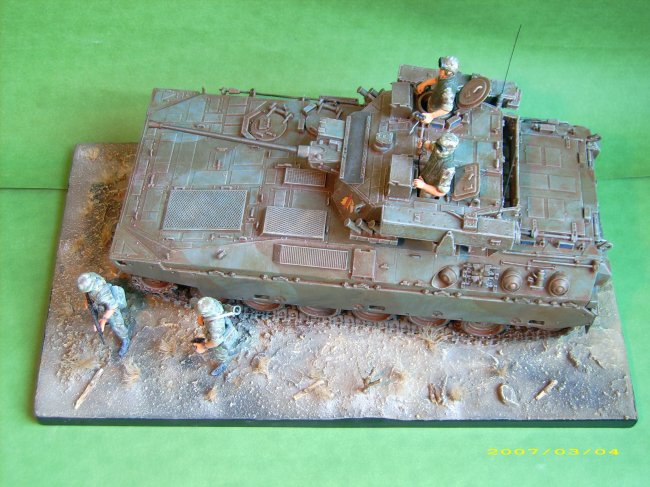 The base is another example of my cut-price efforts: two sides of an old CD case superglued together, a thin layer of plaster, a dusting of real soil and garden debris, and some grass from teased-out twine.
I actually made this model some time ago but it turned out satisfyingly well and remains one of my favorites - despite me not having any particular interest JASDF vehicles.
Greg Kerry