Tamiya's M-60A1 with reactive armour is a mix of old and new.
The basic tank kit is 1970s vintage Tamiya. It was designed, like most of their kits from that time, to be motorised.
It is a reasonable kit, capturing the look of the M-60. The details are not quite what you expect now, but it is a useable tank.
Tamiya updated the kit to represent the version used at the time of the first Gulf War when it was up armoured with Reactive armour.
The new parts are noticeably sharper than those of the original. Also included are new crew figures wearing the uniform and equipment appropriate to this new version. They are nicely animated in relaxed, casual poses.
The kit is virtually out of the box. No etch or resin added. The only extras were in the shape of the kit stowed on the vehicle.
I found an extra figure to fit in the driver's compartment.
The tracks are the kit's one piece vinyl and they are no too bad, painting up nicely.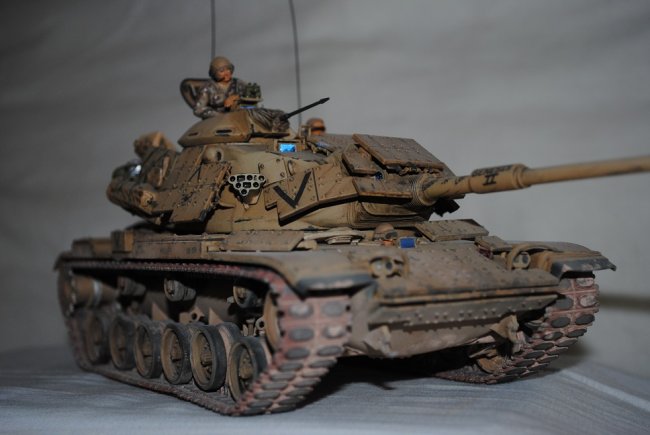 The model and figures, were painted with a mixture of Humbrol enamels and Tamiya acrylics. Weathering was done by shading with raw umber oil paint and Tamiya Smoke. The panels were highlighted with lighter shades of the base colour airbrushed over the main cote.
White oil paint was applied in dots all over the tank and then streaked and blended with a flat brush damp with white spirits thinners. Mig pigments provided a dust covering.
Blue chrome tape was used to represent the periscope lenses as this closely resembles the coating found on modern tank optics.
Angelo M Picardo