This is the Italeri kit of the Puma. Though Dragon of released a new model of this vehicle the older one is still a good model.
The only after market items I added were a turned metal barrel as the kit one was under sized and I replaced the kits jerry cans with some more detailed ones.
I enhanced the details on the kit with plastic card, wire and bits and pieces from my spares box.
I adjusted the wheels on the kit to turn them out of neutral.
The figures are from Dragon's "Achtung Jabo!" set. The base is made from card board covered in static grass and cat litter.
The gate and gate post are scratch built, a marble was used to make the sphere on top of the post. The gate is made from balsa wood with fixtures and fittings made from plastic card and wire.
The tree and branches are from roots dug out of my garden.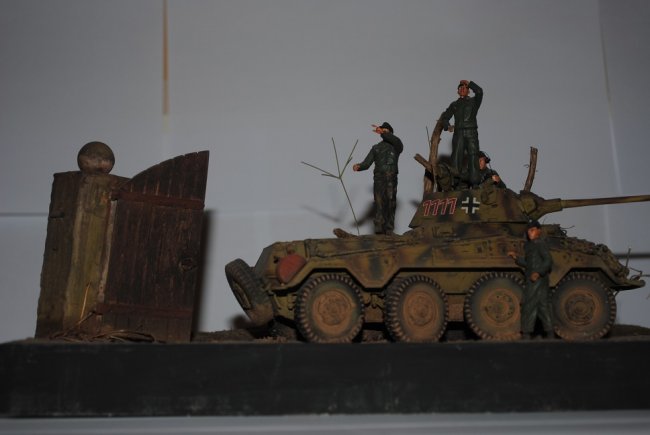 I painted the model with a mixture of Tamiya acrylics and Humbrol enamels. Mig pigments were used to weather the lower part of the armoured car and to tie the model in with the base.
Angelo M Picardo