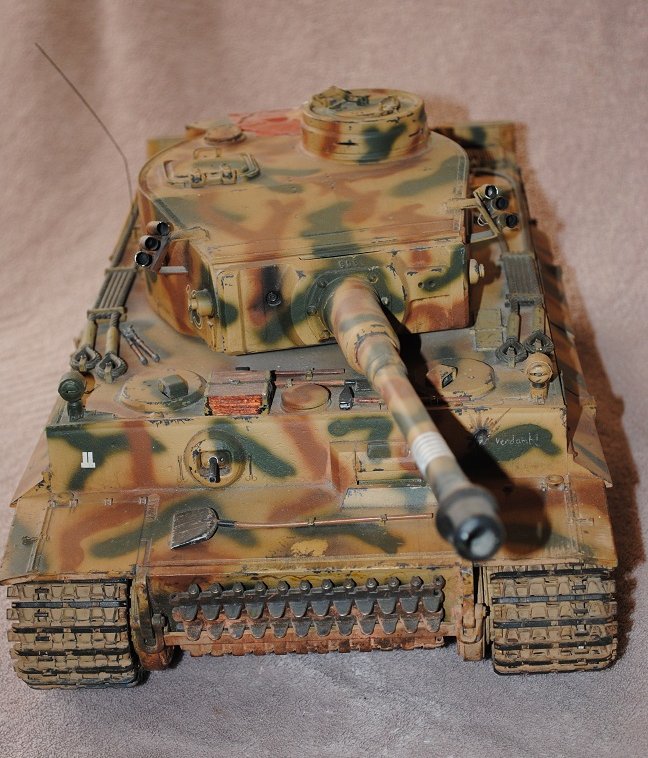 This started life as a toy. It was a present. The tank is a radio control toy with the ability to fire BBs.
It is, however fairly well detailed and has the capacity to be turned into a reasonable replica. Some details have been simplified to make it a workable replica, but they can be easily changed into a more detailed model.
I used plastic card, scrap etch metal and brass tubing to enhance the details. The tubing was used to refine the grenade launchers and lead wire was added as the ignition cables.
To make the mesh over the engine cooling grills I used an old sieve with frames made from plastic strip. Plastic mesh was used to detail the tubing on the air filters.
Plastic and brass was used to make tool clamps.
The track guards were thinned and buckled to represent battle damage, and I used a grinding bit to make the shell hit on the front armour plate, and to generally texture the surface of the armour.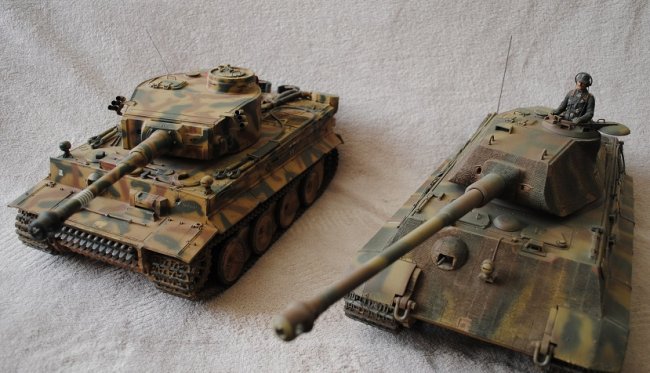 The tank was moulded in light grey plastic. I airbrushed the camouflage with Tamiya acrylics and scrounged markings from my spares box to represent a Tiger 1 as it may have appeared during the battle of Kursk. I also added an aircraft recognition flag made from foil and a spare swastika decal.
Mig Pigments were used to weather the model.

I have left the radio control in place as its good fun driving it around the carpet chasing the cats!

I took a picture of the Tiger 1 posed along side my King Tiger as an example of the size difference between the two.
Angelo M Picardo