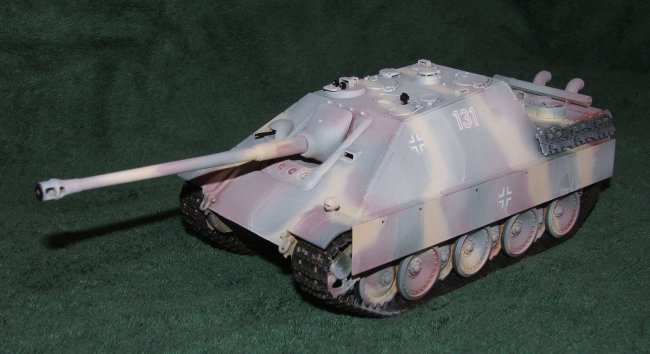 Back in World War 2 the Germans made several versions of tank destroyers (hence the Jadg). This one was based on the panther (hence the panther) chassis. It was equipped with a version of the famous 88mm anti-tank gun. In fact, its the same gun that was used in the Tiger II tank.
I received this kit as a Christmas present from one of our foreign exchange students back in 2002 (I think). As of this writing, its the largest 1/35 piece I've ever put together. Put next to a Sherman, no wonder our guys were scared of the thing.

The kit is a Tamiya, so no problems with the parts fit. I don't recall any issues with it at all. It was a fun build! The kit wanted me to put all sorts of stuff on the sides of the tank, but I like the clean look of the slab side. I hunted and found a few pics of where the tools and such were put on the rear deck and back of the top. That was my eureka moment.

I've always enjoyed the winter cammo schemes, so I went with a Ardennes/Winter cammo scheme. For the white wash, I used a super thinned white and just went after it with the airbrush. Knowing the troops wouldn't have worried about the finish, neither did I. I made runs, thin spots, thick thin spots, etc. It was one of my better cammo paint jobs, and I almost hated covering it up with the white wash. Although the wash didn't come out quite exactly like I planned, I think it looks fine.

Any comments or questions are always welcomed. If wanted, more photos are available upon request.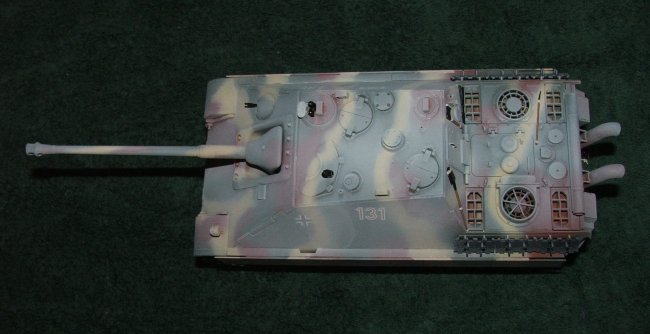 Thanks for looking and don't throw rotten tomatoes!
Douglas Conrady