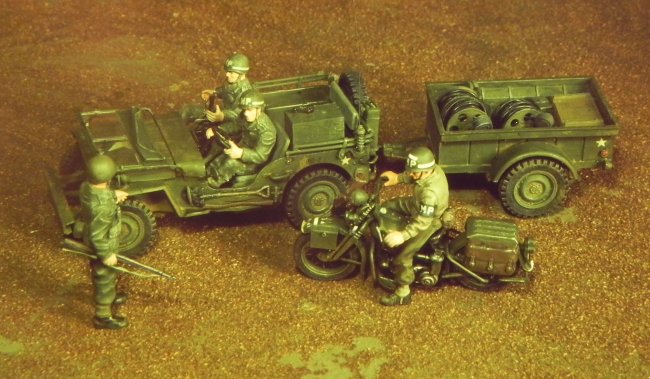 Photo 1 above
A while ago I went through a Jeep-making period - intrigued by how many variations on a theme were possible (far more than I actually covered).
I started with the Tamiya kit (as Photo 1 & 2) and made it as standard except for a little added detail. The solid front bumper was exchanged for a more open backed item and a radio set was stuck in the back. Sprue wires and cables were used on the engine too. Photo 1 also shows Tamiya's old kit of the Harley WLA-45 on which I replaced the wheel spokes with rolled fusewire - otherwise a nice little kit though somewhat superseeded now by competitors' products.
Photo 3 & 4 shows the same kit but finished with a British touch: a Bren gun and a different radio (plus a different driver of course though I can't recall where I found him).
Photo 5 shows a cut-down SAS version: made from Tamiya's Desert SAS kit (mainly necessary to get the guns). Photo 6 is a dodgy picture (for the authenticity, you understand) of an Israeli vehicle fitted with a MG 34 as used during the War of Independence; figures here are converted from the Tamiya pair with swapped heads.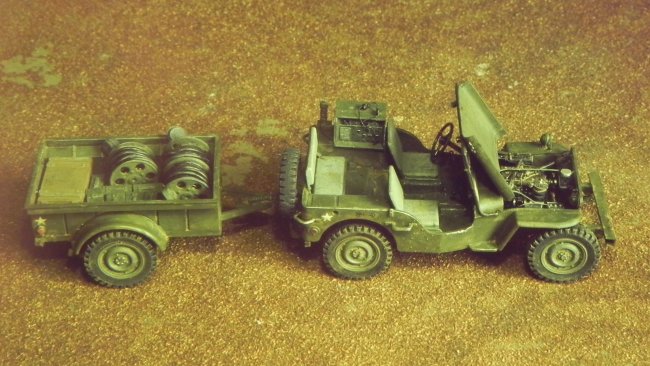 Photo 2 above
Photo 7 & 8 shows another SAS conversion but this time a more fully equipped example based on a restored vehicle I spotted at a military rally. Main differences are the large fuel tanks and various extra stowage racks; the gun shields were made from scrap plastic.

Photo 9 is of Italeri's so-called Commando Car - an SAS Jeep by any other name but looking satisfyingly different to my companion model. The figure here is from Tamiya again.

Of course, there are many more variants than this: heavily armored ones and hospital cars to name but two.
Greg Kerry