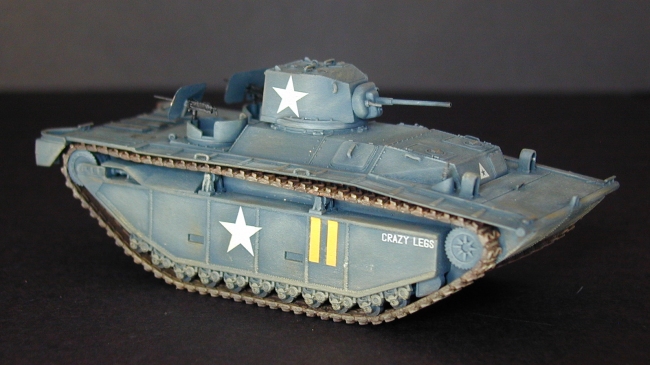 LVTs were armored amphibious tracked landing craft used for beach assaults and even major river crossings. Called "AmTracs" (Amphibious Tractors), they were widely used in the Pacific, but also to some extent in Europe, such as during the crossing of the Rhine. The LVT(A) series answered the need for fire support during these operations. The LVT(A)-1 had the cargo area covered over and a Stuart-style turret with a 37mm gun mounted on top.

When they first entered service, they were painted Navy Blue, as befitting sea vessels. Later, as it was seen how low they rode in the water, and how much time they spent later fighting on land, the color was changed to Dark Green.
Dragon has addressed the lack of small-scale kits of these important vehicles with a gem of a kit. The detail is exceptional and the fit is incredible. It comes with Dragon Styrene™ tracks which allow the use of regular glues and which take paint well. Optional photoetched brass gunshields are included for the rear machinegun positions, with no folding needed.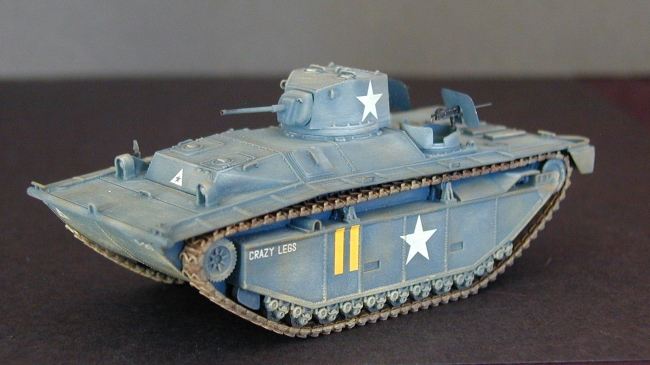 Two paint schemes are included, one in Dark Green, the other has callouts that approximate Ocean Grey, but which would more correctly be faded Navy Blue. This is the scheme I chose, using Tamiya's Weathering Master pastels to do the fading and to add other weathering.
Llarry Amrose