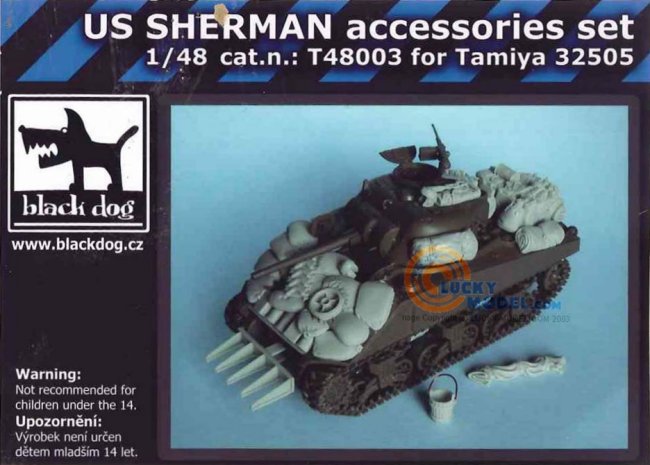 This accessories set from Black Dog is available directly from Lucky Model.com
This U.S. Sherman accessories set is designed for the early production M4 Sherman tank that was used in the early weeks after the D-Day landings. So the gear in this set is the type of gear you would expect to see on a Sherman operating in Normandy after the D-Day landings. One very notable item is the hedgerow device that was welded to the front of the tank to permit the tankers to go through the hedgerows rather than be picked off by the formidable German tanks that sat on the roads.
This set includes various rolls, helmets, a bucket, rifle, spare road wheel to just name some of the items. You'll also notice a case of "liberated" wine as part of the gear on this Sherman, so the folks at Black Dog do have a sense of humor and are not just sticking to military issued gear. On the front of the tank are sand bags and some spare track links and a spare road wheel that are all there to provide a tiny bit of additional armor protection from the deadly German tanks.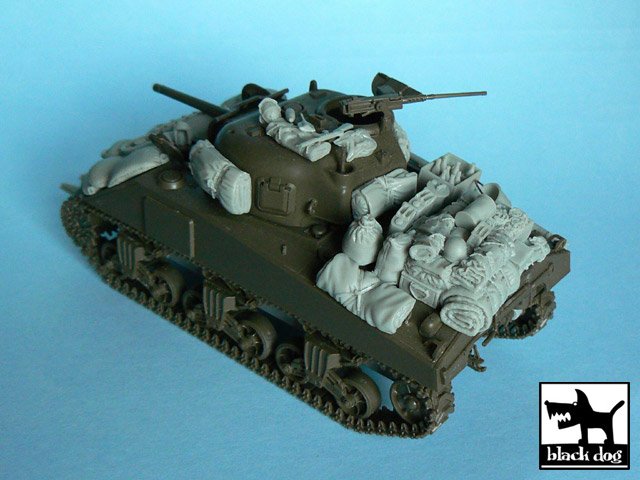 This is a pretty neat set loaded with gear and would be a fine addition to a tank that operated in Normandy after the D-Day landings.
This detail set is available directly from Lucky Model.com
Go to this link to buy this item
Steve Bamford