This figure set from Tamiya is available directly from Hobby Link Japan
Here's a fine set of figures depicting German Field Marshal Erwin Rommel and seven other German Army figures in desert uniforms. Accessories include a tent, crates, radio with battery, jerry cans, and fuel drums. Also includes a smattering of weapons and accessories for the soldiers. Perfect for dioramas with vehicles and aircraft!
At the beginning of WWII, the Italian army invaded and attacked Egypt but received severe defeats from British-led counterattacks. Due to this, Field Commander Rommel was sent to North Africa to save the situation. It was decided that two German divisions would support their Italian counterparts in the invasion of English-held Egypt, which resulted in a complete and utter defeat for the defending English forces. Always commanding from the frontlines, Rommel and his African Corps chased the British troops, eventually cornering them at the Egyptian border. With Rommel's success, he was both respected and feared by the English-led forces and was called "the Desert Fox" for his skillful desert campaigns.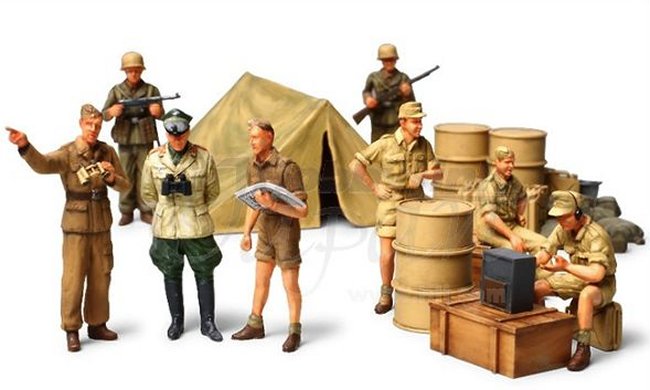 About the Model
Set includes 8 soldier figures with a variety of realistic expressions.

The tent, which comes with this set, has a cloth like feel and a lifelike sag effect.

The set comes together with parts for accessories such as a wireless radio and battery.

Parts for jerry cans, fuel drums, and wooden crates also included to liven up the surroundings.
This detail set is available directly from Hobby Link Japan
Go to this link to buy this item http://www.hlj.com/product/TAM32561
Steve Bamford