This photo etch detail set from Eduard is part of the Big Ed series of photo etch sets and is available directly from Sprue Bros
The Leopard 2A6 is an evolution of the A5 and is one of the best main battle tanks in the world and is in service with Germany, Canada, Greece, Netherlands, Portugal and Spain.
This photo etch detail set includes 4 frets of photo etch and they are all for the exterior of the Leopard 2A6. There are no parts for the interior, but considering you can't see the interior with the turret in place....this makes good sense. You get a massive variety of parts including parts to detail the underside of the hull, the drive wheels, engine cover screens, shovel and pick axe tie down straps, and even bullets for the machine gun plus much, much more. Many of these parts are very small detail parts that will an an exceptional level of added detail to your Leopard.
There are 7 pages of instruction in the usual line drawing format that Eduard is famous for and which are so easy to follow.
You will be required to fold the photoetch in this set, but if you have one of the Hold & Fold photo etch benders from The Small Shop, then this will be an easy process. They have a variety of benders for sharp corners as well as rounded corners and in many different sizes.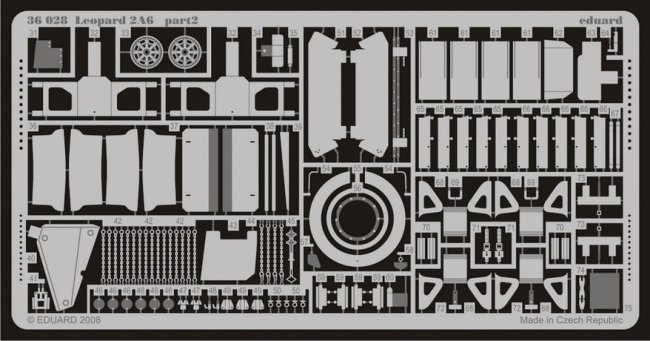 You can buy this photo etch detail set and thousands of other items directly from the Sprue Brothers Models site. They are famous for their prompt service.
Go to this link to buy this item
Steve Bamford