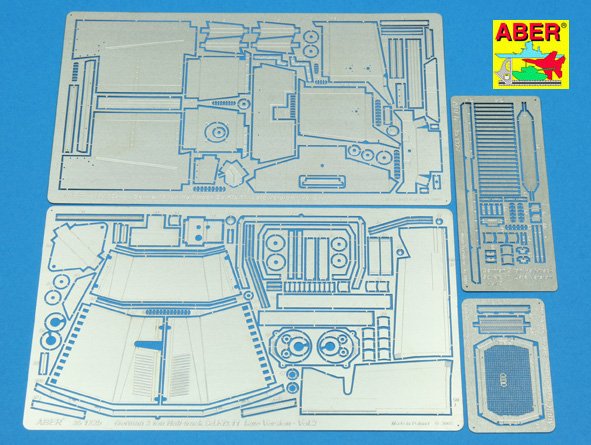 This detail set from Aber is available directly from Hobby Link Japan.
Aber from Poland is well known throughout the modeling world for its amazing photo-etched metal detail sets and accessories covering an astonishing range of military subjects...and more!
This set includes 5 photo etch frets for the German 3t Halftrack Sd.Kfz.11 from AFV Club. This set focuses mainly on the fenders and engine covers. This set loaded with parts including the front grill, front fenders, engine hood, engine radiator fans, radiator, front bumper and more. You will be required to bend parts and glue photo etch parts together to create sub-assemblies that will then be attached to your model.
You get 4 pages of instruction sheets and they are the usual exploded view line drawings that show the assemble of the sub assemblies very well. These instructions are easy to follow.
You will be required to fold the photo etch in this set, but if you have one of the Hold & Fold photo etch benders from The Small Shop, then this will be an easy process. They have a variety of benders for sharp corners as well as rounded corners and in many different sizes.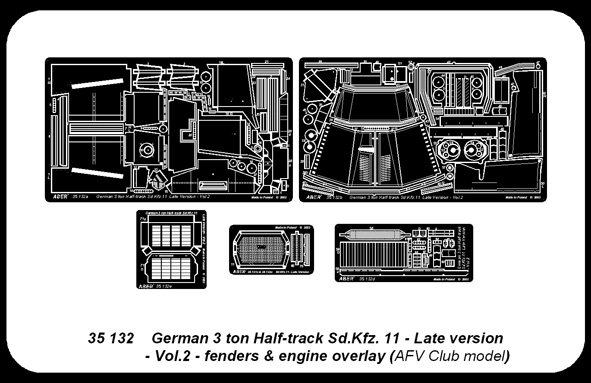 This is one heck of a great set and it would be a vast improvement in detail over the AFV Club kit parts and would add a very delicate level of detail.
This detail set is available directly from Hobby Link Japan
Go to this link to buy this item
Steve Bamford