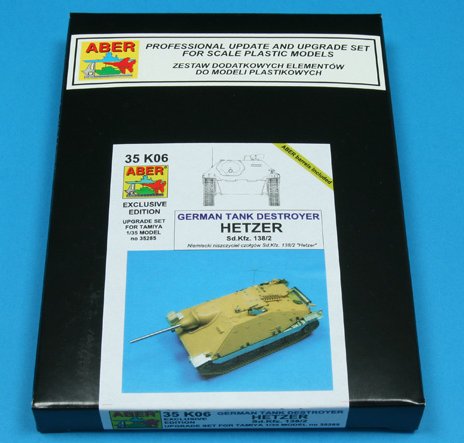 This photo etch detail set from Aber is available directly from Hobby Link Japan is a photo etch set with additional metal parts for such items as the main gun barrel, the machine gun barrel and antennas.
This detail set is designed for the Tamiya German Tank Destroyer Hetzer kit # 35285. This detail set included:
3 photo etch frets

metal machine gun barrel

Main gun barrel with rifling

Brass rod for antennas and piano hinge on storage bin.

Wire
The photo etch parts include almost every thing that is on the exterior of this Tamiya kit from the perforated heat shield exhaust cover, hatch hinges, spade blade for shovel, tie down straps for tools, replacement fender parts, storage bin, side armor plates to cover top of tracks and dozens of tiny little detail parts.
What is also interesting is you get parts for the early and late versions of the Hetzer and this is explained in the instructions. the instructions include 12 pages of exploded line drawings that are well laid out and easy to follow.
The main gun barrel has rifling inside and the machine gun barrel is a 2 piece unit that includes a perforated cooling jacket.
You will be required to fold the photoetch in this set, but if you have one of the Hold & Fold photo etch benders from The Small Shop, then this will be an easy process. They have a variety of benders for sharp corners as well as rounded corners and in many different sizes.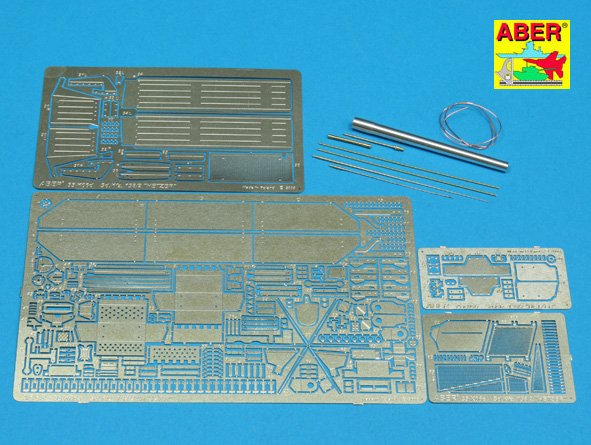 This is a very extensive detail set that will do wonders for upgrading the detail on the Tamiya kit.
This detail set is available directly from Hobby Link Japan.
Go to this link to buy this item
Steve Bamford