This photo etch detail set from Aber is available directly from Hobby Link Japan
Aber from Poland is well known throughout the modeling world for its amazing photo-etched metal detail sets and accessories covering an astonishing range of military subjects...and more!
This photo etch set gives you all the screens, handles and a large variety of tiny detail parts for the exterior of the 7TP - Polish Tank. The selection of parts is truly impressive as you will see in the instruction sheets above. You even get the cooling jacket for the tip of the main gun as well as tiny parts for the road wheel suspension plus plates for the sides of the turret. The louvered panels on the top side of the tank will look exceptionally nice once installed.
You will be required to fold the photoetch in this set, but if you have one of the Hold & Fold photo etch benders from The Small Shop, then this will be an easy process. They have a variety of benders for sharp corners as well as rounded corners and in many different sizes.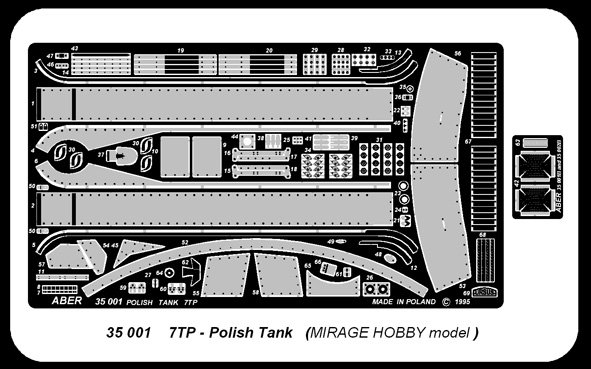 This detail set is available directly from Hobby Link Japan
Hobby Link Japan is your hobby shop based in Japan for all your scale model hobby needs. They are famous for a massive selection of products and fast reliable service.
Go to this link to buy this item
Steve Bamford